Eric W. Ring, MD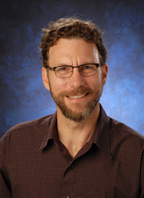 Physician: Pediatrics, Obstetrics & Family Medicine
Eric Ring left the smoggy skies of Houston, Texas where he had worked for NASA for eight years, to start a new life and career as a medical student. He only made it as far as Texas Tech, exchanging the frequent wafts from refineries for the frequent wafts from stock yards, a small step for this man but a step none-the-less on his journey back west from where he came and beyond to the fabulous Rogue Valley. While being a family doctor may not sound as exciting as an aerospace engineer, outer space is just another place to go compared to the thrilling discoveries found in the inner space.
Eric has an understanding wife and daughter who give meaning to his adventurous life. Among her many extraordinary talents, Barbie is a supreme domestic goddess, freeing up Eric's time for more manly activities such as studying, working out and taking out the trash. Hannah's jobs are to do well in school, have an active imagination, and to never stop talking no matter what.
Dr. Ring receives an enormous amount of satisfaction from the relationships he develops with his patients. Delivering babies is a thing of the past, but delivering excellent medical care, delivering on his word, and delivering a good punch line are still active parts of his practice. Dr. Ring is especially interested on preventive medicine, including upper and lower endoscopy to prevent colon and esophageal cancer, and vasectomy to prevent a budget crisis at home.
Outside of medicine, Dr. Ring enjoys traveling, flying his Cessna, skiing during a good year, and spending time with his family.
Areas of Interest:
gastrointestinal endoscopy
vasectomy
circumcision
colonoscopy
joint injection
lesion removal
Education:
Bachelor of Aerospace Engineering, Minor in Bio-Engineering: 1983
Georgia Institute of Technology, Atlanta Georgia
Graduate School Education:
Master of Science in Aerospace Engineering: 1985
Georgia Institute of Technology
Medical Education:
Texas Tech University School of Medicine: 1977
El Paso/Lubbock, Texas
Residency:
Cascade East Family Practice, Klamath Falls: 2000
A training program committed to rural family medicine.
Honors and Awards:
Outstanding Performance Rating, NASA: 1988,1989
Sustained Superior Performance Award, NASA: 1985,1986,1987,1989
Board Certified:
American Board of Family Practice: July 2000
Recertified – Diplomat 2007- 2014
Other Certifications:
ACLS, ATLS, NAL